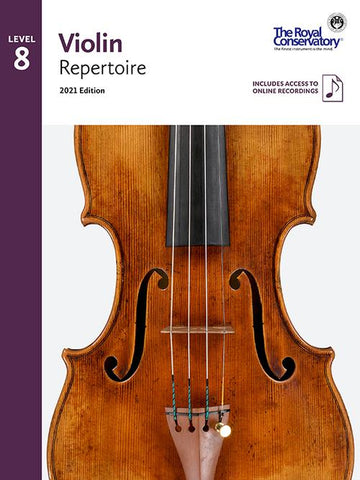 Violin Repertoire 8, 2021 Edition
Carefully selected and curated to support teachers and students in their artistic and technical development, the Violin Series, 2021 Edition includes pieces from a diverse range of eras and styles that represent stepping stones to major violin repertoire. Each level is constructed to link repertoire selections to necessary techniques and corresponding etudes, while illustrating step-by-step connections for developing core skills. Each Repertoire book includes access to quality video and audio recordings by some of North America's finest violinists and accompanists; both performance and accompaniment-only tracks for each Repertoire selection offer students a model for performance practice and the convenience of accompanied rehearsal at home.

Violin Repertoire 8 is the culmination of techniques presented in the repertoire forms of concertos, sonatas, concert pieces, and unaccompanied materials by composers such as Murray Adaskin, Johann Sebastian Bach, Béla Bartók, Edward Elgar, George Frideric Handel, Franz Joseph Haydn, Anatoli Komarowski, Fritz Kreisler, Pablo de Sarasate, Dmitri Shostakovich, François Schubert, Georg Philipp Telemann, Antonio Vivaldi, and Henryk Wieniawski. The repertoire highlights areas in which students can further their artistic development by cultivating expressive vibrato and their fluency of left-hand shifts between the first and seventh position, alongside varied bow strokes in different styles.
---
We Also Recommend
---