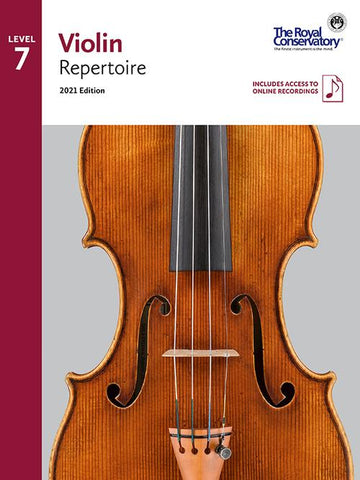 Violin Repertoire 7, 2021 Edition
Carefully selected and curated to support teachers and students in their artistic and technical development, the Violin Series, 2021 Edition includes pieces from a diverse range of eras and styles that represent stepping stones to major violin repertoire. Each level is constructed to link repertoire selections to necessary techniques and corresponding etudes, while illustrating step-by-step connections for developing core skills. Each Repertoire book includes access to quality video and audio recordings by some of North America's finest violinists and accompanists; both performance and accompaniment-only tracks for each Repertoire selection offer students a model for performance practice and the convenience of accompanied rehearsal at home.

In Violin Repertoire 7, a broad cross-section of composers is explored, including Johann Sebastian Bach, Carl Bohm, César Cui, Riccardo Drigo, Edward Elgar, Francesco Geminiani, Fritz Kreisler, Benedetto Marcello, Moritz Moszkowski, William Potstock, Friedrich Seitz, Edmund Severn, Franz Schubert, Paul Wachs, and Antonio Vivaldi. This varied repertoire provides ample opportunity for stylistic development. Violin Repertoire 7 encourages the expansion of artistry through the introduction of new key signatures, leading to comfort and awareness of melody and harmonic structure. Passagework includes first to seventh positions, increased chromaticism, motivic patterning, and the exploration of ornaments, alongside a variety of opportunities for mastering bow articulation.
---
We Also Recommend
---