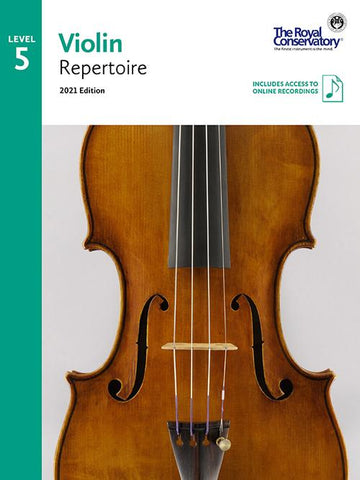 Violin Repertoire 5, 2021 Edition
Carefully selected and curated to support teachers and students in their artistic and technical development, the Violin Series, 2021 Edition includes pieces from a diverse range of eras and styles that represent stepping stones to major violin repertoire. Each level is constructed to link repertoire selections to necessary techniques and corresponding etudes, while illustrating step-by-step connections for developing core skills. Each Repertoire book includes access to quality video and audio recordings by some of North America's finest violinists and accompanists; both performance and accompaniment-only tracks for each Repertoire selection offer students a model for performance practice and the convenience of accompanied rehearsal at home.

Violin Repertoire 5 spotlights a global representation of repertoire, including Christine Donkin, Manuel de Falla, Dmitri Kabalevsky, Fritz Kreisler, Dmitri Shostakovich, Shinichi Suzuki, and Ralph Vaughan Williams. While progressing into the Intermediate level of the repertoire series, bow strokes such as collé and beginning spiccato strokes are explored. Students continue their study of shifting by encountering works ranging between first and fifth positions, while explanatory footnotes provide assistance with harmonic finger placement and the execution of ornaments.
---
We Also Recommend
---