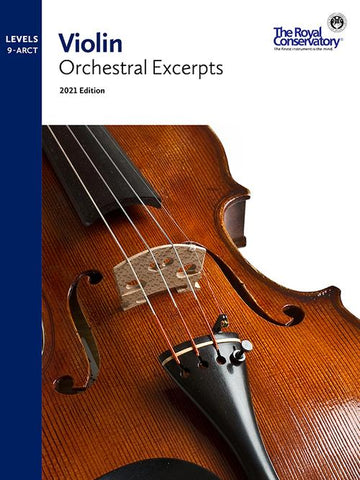 Violin Orchestral Excerpts 9-ARCT, 2021 Edition
Carefully selected and curated to support teachers and students in their artistic and technical development, the Violin Series, 2021 Edition includes pieces from a diverse range of eras and styles that represent stepping stones to major violin repertoire.

Violin Orchestral Excerpts 9–ARCT presents excerpts ordered chronologically from the Baroque to the modern era and includes overtures, ballets, operas, chamber music, orchestral music, and contemporary works. Selections are organized progressively to present relevant materials with both section parts and concertmaster solos for youth and community orchestras, chamber music ensembles, and to provide preparation material for auditions at the professional level. This book features works from Ludwig van Beethoven, Antonín Dvořák, Edward Elgar, Franz Joseph Haydn, Gustav Mahler, Wolfgang Amadeus Mozart, Felix Mendelssohn, Sergei Prokofiev, Sergei Rachmaninoff, Nikolai Rimsky-Korsakov, Arnold Schoenberg, Rodney Sharman, Caroline Shaw, Dmitri Shostakovich, Bedřich Smetena, Richard Strauss, Pyotr Il'yich Tchaikovsky and Dinuk Wijeratne.
---
We Also Recommend
---