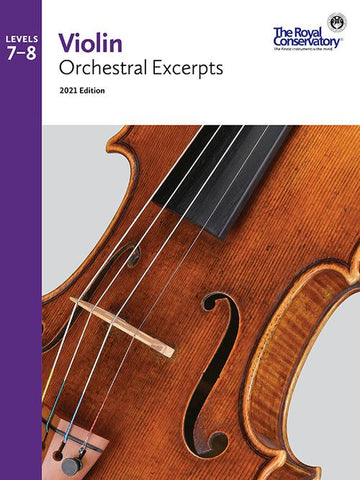 Violin Orchestral Excerpts 7-8, 2021 Edition
Carefully selected and curated to support teachers and students in their artistic and technical development, the Violin Series, 2021 Edition includes pieces from a diverse range of eras and styles that represent stepping stones to major violin repertoire.

Violin Orchestral Excerpts 7–8 presents excerpts ordered chronologically from Baroque through to the modern era. Selections are organized progressively to present relevant materials for school orchestras and initial chamber music experiences. Bowing and fingering has been added where needed to encourage the most stylistically appropriate results. This book features works from Johann Sebastian Bach, Ludwig van Beethoven, Hector Berlioz, Georges Bizet, Mikhail Glinka, George Frideric Handel, Jacques Hétu, Franz Joseph Haydn, Wolfgang Amadeus Mozart, Felix Mendelssohn, Kelly-Marie Murphy, Jacques Offenbach, Gioachino Rossini, Franz Schubert, Georg Philipp Telemann, and Pyotr Il'yich Tchaikovsky.
---
We Also Recommend
---