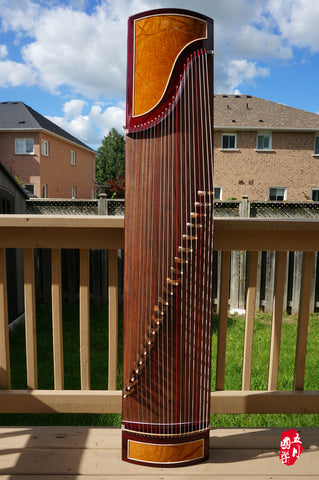 ONE FULL PIECE PAULOWNIA WOOD GUZHENG -- 'GOLDEN COLOR JADE SOUND'
ONE FULL PIECE PAULOWNIA WOOD GUZHENG-- 'GOLDEN COLOR JADE SOUND' 朱雀古箏 -- 金色玉聲 
Name: GOLDEN COLOR JADE SOUND
Brand: SCARLET BIRD ZHUQUE
Model: GOLDEN COLOR JADE SOUND
Level:  Collection level or stage performance 
Craft: Piano paint plus shelling carving
Body: A full piece of Paulownia wood, after 8 years naturally dry.
String: 21 strings, Germany-made steel string wrapped with wool nylon 
Accessory: A shape Guzheng stands, Premium thickened soft carrying case, Guzheng pick, Tuning wrench, Tape
Scarlet Bird brand of the Xi'an Conservatory of Music is the most respected brand that follows the traditional ways of making Guzheng. All Guzhengs are purely made by hand. (朱雀秦箏為中國北方最權威的古箏品牌,採用古法純手工製作,是中國挖箏工藝的唯一傳承者).
All the models come with the finest qualities in wood selections, craftsmanship, and sound. They are produced in a very limited quantity each year to ensure the finest quality of each and every instrument. (朱雀秦箏取材考究,須以優質泡桐,經多年露天存放,自然養性,再經特殊處理,使木質纖維發生質變,才能進入複雜的工藝流程,所以朱雀箏每年產量非常有限)
The soundboard is made of a full piece of paulownia, which is artificially hollowed out in the middle. It needs a thick paulownia wood, which has been dried for years and has the same size as the Guzheng body. The sound grooves are engraved inside of the body. To ensure the sound wave is unimpeded, unlike other guzhengs, there is a strut in the Resonance body. And the radian of the board is formatted naturally.(中國唯一保留古法挖箏工藝,即將一塊自然風乾幾年的,和箏體一樣厚的木料,人工挖空,面板內鐫刻細密的音槽,共鳴箱內不設任何支撐物,確保聲波流動暢通)
This beautiful instrument is one of the latest and most popular models of Scarlet Bird Zhuque, The surface is processed with perfect piano varnish, decorated with the figure of 'Plum Blossom'. (朱雀精品系列,收藏級款,鋼琴烤漆,梅花圖案)
楚匠饒巧思,秦箏多好音。如能惠壹面,何啻直雙金。
玉柱調須品,朱弦染要深。會教魔女弄,不動是禪心。
唐 白居易『偶於維揚牛公處覓箏』
---
We Also Recommend
---