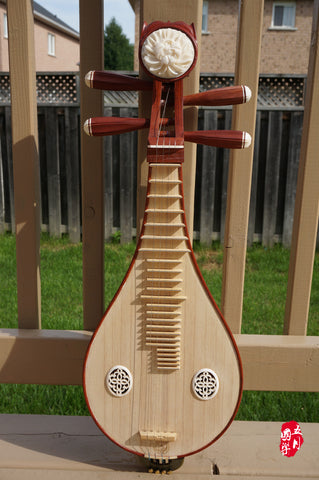 PROFESSIONAL ROSEWOOD LIUQIN
PROFESSIONAL ROSEWOOD LIUQIN -- 專業花梨木清水頭花柳琴
Place of origin: Beijing/Hebei
Level: 

 Professional

 Level,for stage performance purpose  
Body:

 African purple sandal wood
Top/back panel: A level P

aulownia wood from Lankao
Head: Peony shape made of ox bone

 
Tuning peg: African purple sandal wood, curved with ox bone
Frets: Aged bamboo, curved with steel
Sound Hold: Chinese window grille shape.
Accessory: Premium hard case, pick, support, manual, wiper
Ocean of Music:
Ocean of Music is one of the largest music instrument manufacturers in China that has the best brand in many kinds of Chinese traditional music instruments. Its products are specialty items that are coveted by professional musicians and collectors alike.(樂海集團是中國北方第一大樂器製造商,位於北京、河北,前身為北京民族樂器廠)
This beautiful Erhu is custom-designed by Ocean of Music. All the making materials including soundboards, frames, strings and bridges are carefully selected by professionals. All the woods come from north China, where has cold weather and grows the best lumber, solid, stable, with extensive sound, not easy to crack. 
(南方的氣候潮濕造成南方的樂器材料干不透,南方的乐器容易隨環境、溫度、濕度變化,而產生琴桿彎曲,變形,開裂.跑音等情況。而樂海的所有木料來自北方,選料方式和生產的地理位置都優於南方,所以樂海的樂器到哪裡都不容易出現問題)
---