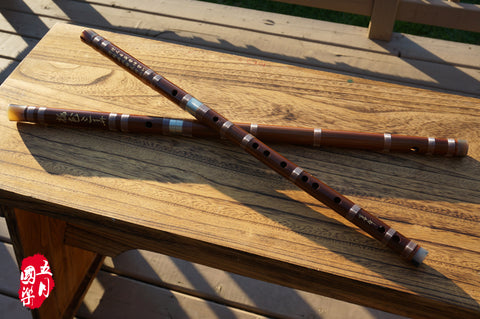 PERFORMANCE LEVEL BAMBOO DIZI CRAFTED BY MASTER DONG (WITH DIAPHRAGM & SOLID GLUE)
PERFORMANCE BAMBOO DIZI CRAFTED BY MASTER DONG  (WITH DIAPHRAGM & SOLID GLUE) -- 董雪華精製演奏級別竹笛(附贈笛膜/笛膜膠)
Brand: Hand crafted by master Dong, Xuehua
Place of origin: ZHONG TAI TONGLING QIAO, known as the home town of of Chinese Xiao and Dizi
Level: 

 Stage performance

 level
Body:

  More than 6 years bitter bamboo, after 3 years naturally dry
Connection: White copper, hand wrapped with white thread.
End: Both end carved with white ox horn.

 
A piece of Dizi Diaphragm and Solid Glue is enclosed.
Bamboo Dizi for recital , pure hand crafted by Chinese Dizi and Xiao master Dong Xuehua.
笛簫製作大師董雪華,純手工製作的演奏級竹笛!
Made of more than 6 years old, superior bitter bamboo, after naturally air-drying for more than 3 years, made in China Tonglingqiao, which is known as Chinese Dizi's hometown. Natural white ox horn on both ends, jointed with copper-nickel in the middle,  enlaced with white string by hand. One end is engraved with ancient Chinese poetry, the other end is engraved with 'Dong Xuehua' characters. Best material,excellent handcraft, brilliant sound quality. 
精心挑選六年以上苦竹製作,自然風乾三年以上,產自中國竹笛之鄉中泰銅鈴橋。兩頭鑲天然白牛角,單插白銅,手工白色纏線。笛首刻有中國詩詞,笛尾刻"董雪華"字樣。
選料上乘,做工精緻,音質音色絕佳!
For beginner, we recommend key G or F. They are easier to play, and very popular in the music sheets.
 建議初學者選擇G或F調,他們比較容易吹奏,而且在樂曲中很常見
Key D:
 Key F:
Key G:
Performer:Dora Wan
---
We Also Recommend
---