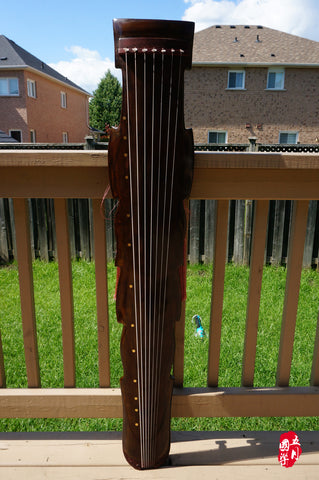 ANTQUE AGED FIR WOOD, COLLECTION LEVEL GUQIN, LUOXIANG
ANTIQUE AGED FIR WOOD, COLLECTION LEVEL GUQIN, JIAOYE ——  歐陽南制收藏級古琴(百年老杉木/洛象式)
洛象,始自明憲宗御製,取"在天成數,落地為象"之意,琴形制奇特,自肩至腰兩旁各列四個半月形,弧面挺出,似展雙翼。琴腰兩旁作鉤雲形,洛象式古琴用料厚實,聲音中正平和,"音雄而堅,韻長而留".
Name: collection level Guqin    
Brand: crafted by master OUYANG, NAN
Place of origin: Yangzhou
Level:  for collection or stage performance purpose
Top panel: antique aged fir wood (over 100 years)
Bottom panel: c

atalpa wood
Inner painting: raw lacquer and 

degelatined deer-horn
String: 7 strings, steel string wrapped with wool nylon, Lesheng brand
Outer painting: raw lacquer
Size: full size, 123 x 22.5 cm
Accessory: Guqin tassel, thickened soft bag, hard case
OUYANG, NAN
OUYANG, NAN was born in Yangzhou, China, known as the town of Guqin. He began to learn Guqin from master MEI, YUEQIANG, who is the 11th successor of Guqin Guangling sect,and he obtained his true skill.  Later, after years of researching and practicing the whole process of making Guqin, he become one of the best Guqin handcraft masters. The Guqin he made are owned and highly praised by the top, prestigious Guqin performers today.
歐陽南先生是盛產古琴的揚州廣陵人士,  廣陵派十一代總是梅曰強的傳人,琴藝得其真傳。數十年苦心研究古琴的選材、配材、琴坯斫制、髹漆、校音等工藝,為目前國內第一流的斫琴師。李祥霆,龔一老師,李禹賢以及上海音樂學院教授戴小蓮,等當今古琴名家都會使用歐陽南先生制作出來的古琴,深得業界讚許。
Since each of our Guqin is purely hand crafted, The color, pattern, etc, may be different. All pictures shown are for illustration purpose only. Actual product may vary.
由於我們的古琴均由純手工斫制,每一台琴顏色,花紋等外表不會完全相同,以上圖片僅供參考,請以實物為準。
---
We Also Recommend
---